3 Fashion Faux Pas & How to Avoid Them
When it comes down to personal style, we shouldn't let others dictate what speaks to us. BUT there are some key fashion faux pas that could definitely screw up the outfits of even the most fashion forward ladies out there.
The next time you find yourself sliding into fashion faux pas territory, keep in mind our top 3 fashion mistakes & how to avoid them.
1. VPL (Visible Panty Lines):
Honestly, tighty whiteys were never "in style", there just weren't always so many options. Now that we have access to a variety of underwear, there's really no excuse for VPL. They're simply unflattering & will detract from any look.
Quick fix: Our 2 favorite brands of undies are from Uniqlo & Hanky Panky. Hanky Panky thongs feature a wider bottom so it won't feel like you're wearing butt floss, but if you prefer to steer clear of thongs entirely, Uniqlo's seamless panties does the trick!
2. Skin Colored Pantyhose:
We choose to wear tights for a variety of reasons; maybe we don't like to show off our legs, they're good for cold weather or they can make an outfit more office appropriate. BUT nude stockings, up there among one of fashion's worst creations, put you at risk of looking like an elderly church-goer. They're dated & far too often aren't the right shade for our skin-tone.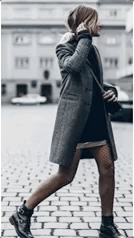 Quick fix: Opt for more current or chic options like black stockings… or printed tights… or just wear pants! Additionally, wearing a combination of black tights w/ black shoes will help elongate the legs!
3. Poor Posture:
Posture isn't often pinpointed as a fashion faux pas per se however it can really change the way your clothing looks. Posture is important for first impressions (& to help avoid future back pain). Good posture displays confidence & allows your clothing to hang properly.
Quick fix: If you're in an office all day, try to take some time each day to focus on sitting up straight. We also recommend using a foam roller for about 5 minutes a day – morning & night.
We've all fallen victim to fashion faux pas at some point in our lives, but this doesn't mean we're at a complete loss. This simply serves as a reminder that even the minor details, like proper undergarments or standing up straight, can determine how flattering an outfit looks.
Editor in Chief: Rui Cheng
Writer: Moira McNally
Photos:homegymr.com, httrittenhousespine.com, nydailynews.com